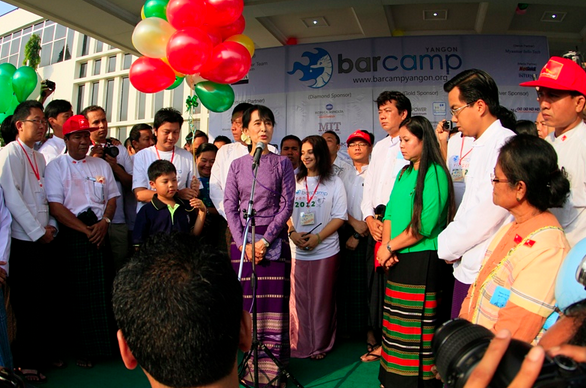 Ma i BarCamp si usano ancora?
mi scoprivo a chiedermi e a chiedere, qualche settimana fa.
Io non ne ho mai frequentati molti, ma qualcuno sì.
Una piccola serie l'ho anche organizzata: i CowoCamp, barcamp sul coworking 2010, 2011, 2012.
Ma ero in dubbio, il concetto BarCamp è nato nel 2005, un'epoca fa (per dire, il dominio Facebook.com era ancora in vendita).
Poi ho ripensato alla bellezza del concetto "Nessuno spettatore, tutti partecipanti". A quella cosa così semplice e magica della "nonconferenza" (come fai a non pensare al noncompleanno?)
A quelle regole (vedi sotto), alcune così straordinarie, almeno per me, tipo:
Introduzioni di sole tre parole
E allora, anche se disubbideremo alla 6a regola, perché di presentazioni ne abbiamo già parecchie prenotate nonostante l'evento sia stato aperto, due giorni fa… allora è deciso: si fa il quarto CowoCamp nazionale, e sarà un Barcamp.
Don't forget:
1st Rule: You do talk about BarCamp.
2nd Rule: You do blog about BarCamp.
3rd Rule: If you want to present, you must write your topic and name in a presentation slot.
4th Rule: Only three word intros.
5th Rule: As many presentations at a time as facilities allow for.
6th Rule: No pre-scheduled presentations, no tourists.
7th Rule: Presentations will go on as long as they have to or until they run into another presentation slot.
8th Rule: If this is your first time at BarCamp, you HAVE to present. (Ok, you don't really HAVE to, but try to find someone to present with, or at least ask questions and be an interactive participant.)
Qui la pagina di CowoCamp 2013 su BarCamp.org.
Qui l'evento Facebook (perché sono siamo più nel 2005… ;-).
[Nella foto in alto: a volte ai Barcamp parlano anche i Nobel, come Aung San Suu Kyi al Barcamp Yangon, Myanmar, 2012] 
Read More