22 giorni alla presentazione dei Business Plan (se volete portare l'azienda in Silicon Valley).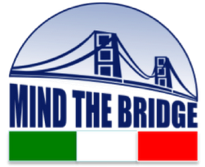 Mind the Bridge foundation è una organizzazione senza fini di lucro, nata in California su iniziativa di Marco Marinucci (Business Development manager @ Google, Mountain View) con lo scopo di creare uno sbocco in Silicon Vallley per le migliori start-up italiane.
L'iniziativa, giunta alla terza edizione, è molto selettiva, ma proprio per questo è un'ottima occasione per quelle aziende innovative nate in Italia e alla caccia di possibilità per diventare global.
Non dimentichiamo che la Silicon Valley è
the most experienced, entrepreneurial eco-system in the world.
Qui il Facebook group, e qui il LinkedIn group.
E qui tutte le informazioni per partecipare alla Business Plan Competition, il cui ultimo termine è appunto il 25 agosto.
Dimenticavo: da alcune settimane ho il piacere di collaborare (volontariamente e a titolo gratuito) con Mind the Bridge, per le attività di comunicazione in Italia.
[youtube=http://www.youtube.com/watch?v=veVMA5wjpkM&eurl=http%3A%2F%2Fwww.mindthebridge.org%2Ftestimonials.html&feature=player_embedded]